The Park County Housing Coalition
The PCHC was first convened in 2020 to elevate the discourse around the already tightening housing market and envision possible solutions to these housing challenges. In 2021 a subcommittee of the PCHC, the "housing working group" volunteered their time for a deeper dive into the housing needs to focus on the development of a housing action plan. In addition to releasing the draft housing action plan for public feedback in 2021, the PCHC released the Park County housing needs assessment to provide additional details about the current conditions, preliminary impacts of the COVID-19 pandemic, and unique set of opportunities and challenges with the regulatory environment in the region. The Park County housing needs assessment is a supporting document to the housing action plan available under the documents tab.
Facilitated by local community action agency, the Human Resource Development Council, IX (HRDC), the Park County Housing Coalition (PCHC) brings together a wide variety of stakeholders including nonprofit organizations, governmental partners, and the local business community from throughout Park County to address housing affordability and implementation of the 2022 Park County housing action plan. The PCHC works through dedicated subcommittees with tangible goals to make progress on a shared vision of housing opportunities for residents to where they can afford to live and thrive.
​Going forward, the PCHC will focus efforts on implementing the Park County Housing Action Plan (HAP) and fulfilling the mission of increasing opportunities for Park County residents to access housing where they can afford to live and thrive.
If you want to learn more about plans to address our housing challenges upstream, check out the recently launched Park County Housing Coalition website or fill out this Google form if you want to be an official coalition member (either as an org or as an individual) AND to be on the mailing list for updates!

---
2021 Park County Housing Needs Assessment
In recent years, housing has become a critical issue in Park County, but identifying exactly what is happening in the ever-changing housing market can be difficult. 
The Park County Housing Coalition -- a collaborative project of the Park County Community Foundation and Human Resource Development Council of District IX (HRDC) -- produced the 2021 Park County Housing Needs Assessment to compile the best information available about this community-wide challenge.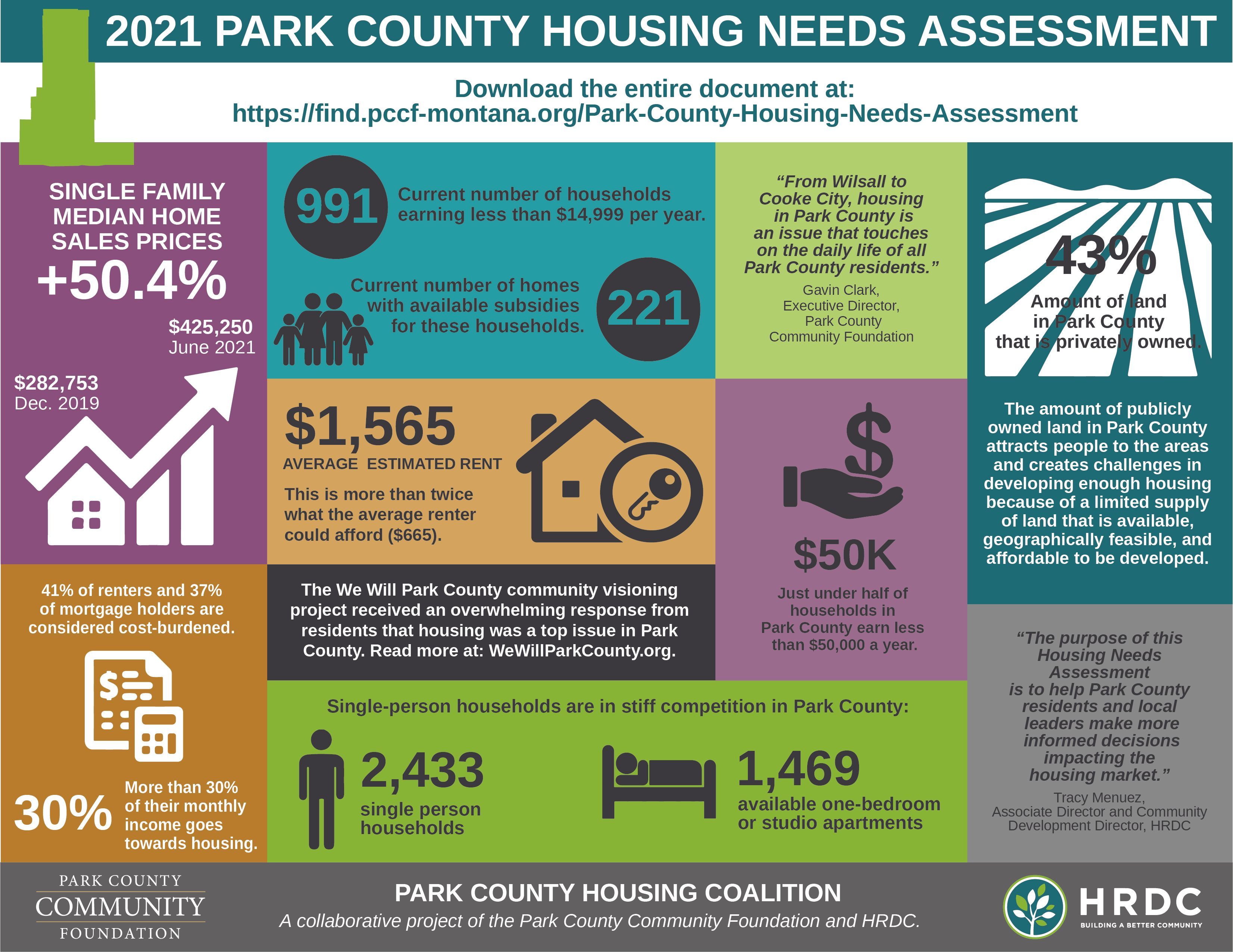 Click here to view the entire document.

Click here to download the one-page infographic summarizing the key facts from the 2021 Park County Housing Needs Assessment.
---
Re-Launch of the Park County Housing Coalition
Please scroll down for links to materials shared during recent meetings of the Park County Housing Coalition.
A critically constrained supply of both rental and for-purchase housing is having damaging effects on quality of life for many Park County families and a stranglehold on local hiring whether for professional, technical and skilled, or semi-skilled employees.  Job offers are made to much-needed employees only to have the opportunities declined because of the difficulty in relocating into Livingston or other county communities.
A lack of affordable housing – no matter what income level – is perhaps the single most-discussed topic in the community.  Many factors affect the situation:  an increasing population as the result of the desirability of living here; the rate of new for-sale or rental housing trailing population growth; age of existing housing inventory; pressure from the Bozeman housing market increasing costs for potential home buyers and rentals; conversions of existing housing to vacation rental properties; and few options for senior citizens to downsize and move from now-too-large homes to quality residential communities.
Believing that solutions require a broad range of stakeholders, in 2018 the Park County Community Foundation partnered with the Park County Extension office of Montana State University and the non-profit Human Resource Development Council to convene a first-time community council to focus on attainable best-practices and solutions.  This work has been re-launched in 2020, and local citizens are lending their experience and expertise to explore actionable solutions.  Participants bring to the discussion their particular technical knowledge, experience in financial and real estate arenas, roles as developers or local-government planning, local-government leadership, employers, small business owners, and as representatives of affected segments of the population.
Among the questions the group is seeking to answer are:
Given state and regional social and economic drivers at work, what aspects of our local housing market are with the influence of the working group or its constituent participants?
What resources of human and organizational capital, grant availability, private funding potential, and public finance are available to the community?
Are restrictions on available locally-affordable housing best addressed directly through measures focused on housing supply or devoting resources toward developing community members' economic capacity to afford housing that is moving toward higher prices over the long term?
Materials shared at recent meetings of the Park County Housing Coalition:
(1) Livingston Cabins now available for lease, (2) Apartments at the Park County Senior Center will be opening up in October, (3) NYEF is seeking a full-time Executive Director to lead their ongoing campaign to provide affordable housing for local teachers.

" 'Crisis point': How the Gallatin Valley's hot housing market leaves people behind"

"Missoula housing prices surge as realtors say out-of-state buyers flock here"

" 'Zoom towns' are exploding in the West"

"New homes on the range: Weary city dwellers escape to Montana, creating a property gold rush"

This document includes links to work done in similar communities: Housing Assessments and Housing Action Plans from Big Sky (MT), Red Lodge (MT), and Park City (UT).

"Experts: Montana luxury real estate market 'insane' in 2020"

"Montana high-end real estate market sees massive 2020 growth"

The City of Livingston is developing a new Growth Policy that will provide guidelines for the growth and development of the City and the surrounding 2-mile area. Click here to visit the Growth Policy website.

Note that the Livingston Planning Board is hosting Growth Policy Public Hearings twice a month from January to April, 2021. Click here to see agendas and recordings for meetings of the Livingston Planning Board. (You'll need to scroll down to the bottom of the page to find the recordings.)

Click here to read the 1/13/21 memo regarding Livingston Planning Board editing updates.
---