Give a Hoot is a month-long Community Giving Challenge that connects community members with causes they care about most.
Funds raised by participating nonprofits during Give a Hoot are eligible to receive a partial match from the Park County Community Foundation due to the support of our generous Give a Hoot Co-Challengers.

Give a Hoot 2020 runs from July 8th - August 6th.
Click here to visit the Give a Hoot online giving platform.
Give a Hoot 2019 by-the-numbers:
52 Park County nonprofits participated
1,775 donations
$856,260 contributed by the community
$219,726 Co-Challenger partial matching funds
$1,075,986 total Give a Hoot donations
10 organizations received maximum $10,000 partial matching funds
The remaining 42 organizations received almost $0.40 in partial matching funds for every dollar raised
---
Give a Hoot 2020 logistics for nonprofit organizations:
Registration opens: Monday, May 18 ("How to register" webinar starts at 10:00 am)
Registration closes: Friday, May 29
Last day to edit your organizational profile on Give-a-Hoot.org: Monday, June 29
(This is the last day for nonprofit organizations to sign and return the Give a Hoot Guidelines for Participating Nonprofits.)
Give-a-Hoot.org profiles open for public viewing: Wednesday, July 1
The Park County Community Foundation is here for support and assistance!
Stay tuned for more details of our upcoming trainings: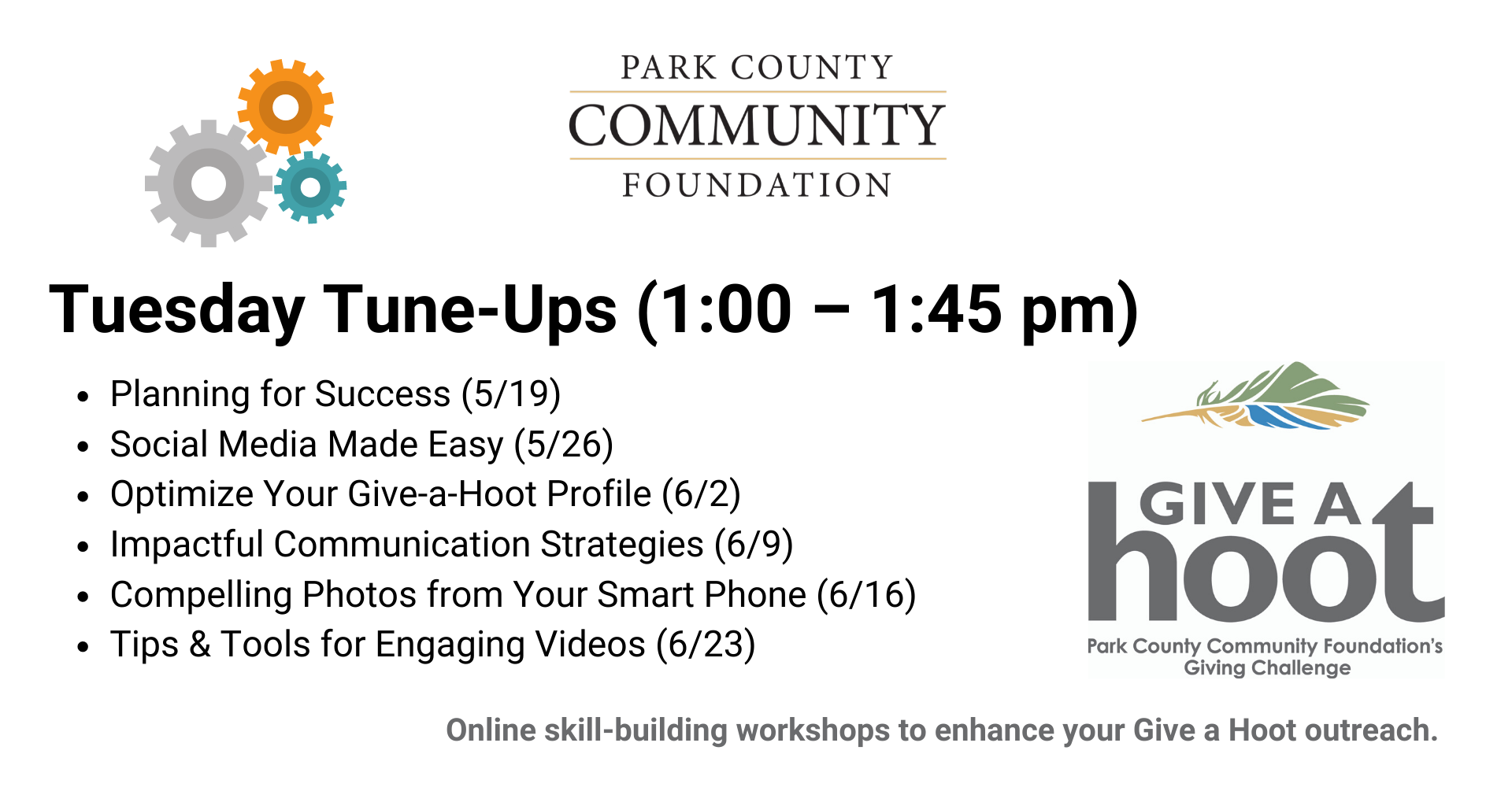 Give a Hoot is made possible thanks to the generosity of the Dennis & Phyllis Washington Foundation - in conjunction with Montana Rail Link - and Willow Creek Ranch.