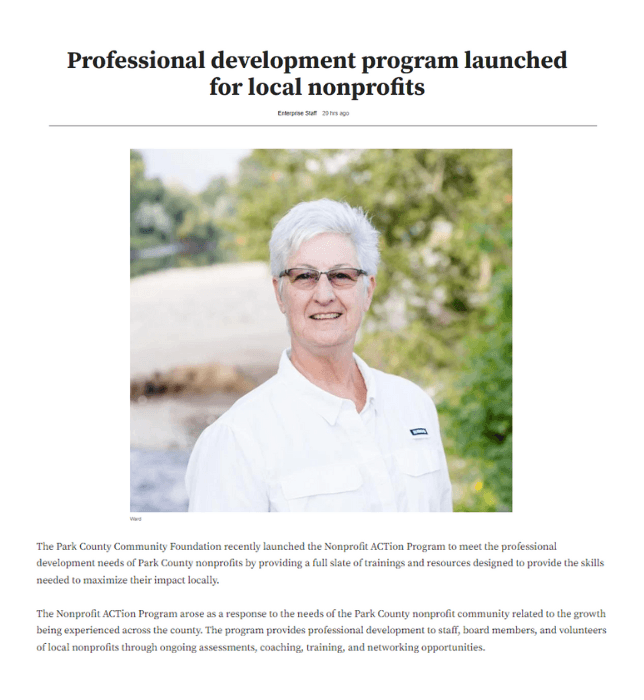 The Park County Community Foundation recently launched the Nonprofit ACTion Program to meet the professional development needs of Park County nonprofits by providing a full slate of trainings and resources designed to provide the skills needed to maximize their impact locally.
The Nonprofit ACTion Program arose as a response to the needs of the Park County nonprofit community related to the growth being experienced across the county. The program provides professional development to staff, board members, and volunteers of local nonprofits through ongoing assessments, coaching, training, and networking opportunities.
Although there is a focus on the nonprofit sector, members of the public, including the business community, are encouraged to participate as well, read a press release from the Foundation.
The nonprofit sector provides services related to food insecurity, housing assistance, mental health support, and other community needs.
Nonprofit ACTion is centered on five key areas of support: Planning, Community Relationships, Human Resources, Operations, and Leadership. Park County Community Foundation sponsors free training sessions that cover each of these main topic areas, sharing industry best practices from national, state, and local area professionals.
The Park County Community Foundation will also offer a nonprofit resource library and launch a community-wide, one-on-one mentorship program pairing local experts with nonprofit leaders.
"Our next phase of growth in support of our community lies in elevating our nonprofit partners to build capacity for meaningful impact in Park County," said Barb Oldershaw, Program Director, Park County Community Foundation. "Nonprofit ACTion will allow us to do just that."
Keva Ward, the newly hired Nonprofit ACTion Program Coordinator and Livingston native, recently returned to Park County after a career in Dallas, Texas focused on nonprofit programming, marketing, and training. In this inaugural position, Keva will be responsible for the daily operations of the program.

"Park County Community Foundation is making such an impact in our community, both as a good steward of charitable donations and in its role supporting all Park County nonprofits," Ward said. "I'm excited to play a role in bolstering the great work being done in my home county!"
Initial funding from the Arthur M. Blank Family Foundation enabled Park County Community Foundation to operate a pilot of the Nonprofit ACTion program over the last couple years. During that time, monthly training opportunities focused on nonprofit essentials such as effective grant writing, running successful fundraising campaigns, and organizational leadership.
In September, the Park County Community Foundation received a grant from the M. J. Murdock Charitable Trust to fund the program through 2026. This grant enables a formal build-out of the program by hiring a full-time Program Coordinator to implement and grow the Nonprofit ACTion program.
The next Nonprofit ACTion training, "Trust and Performance," focuses on strategies for building trust to improve staff and organizational performance and will be presented by Shelby Rogala, Professional and Organizational Development Director at the Montana Nonprofit Association.
The training will take place on Thursday, Oct. 26, 12-4 p.m. at the Livingston Food Resource Center. It is free, open to the public, and includes a complimentary lunch. A nonprofit social hour will follow the training.
"I attend as many of the Nonprofit ACTion events as possible. They are provided locally, usually with content that is pertinent to my nonprofit work here in Park County," said Heidi Barrett, Executive Director of ASPEN, Abuse Support and Prevention Education. "It is a great way to continue learning with other colleagues who are also committed to serving the community we call home."
For more information about the Nonprofit ACTion Program, contact Keva Ward at programs@pccf-montana.org, 406-224-3920, or visit their website at www.pccf-montana.org