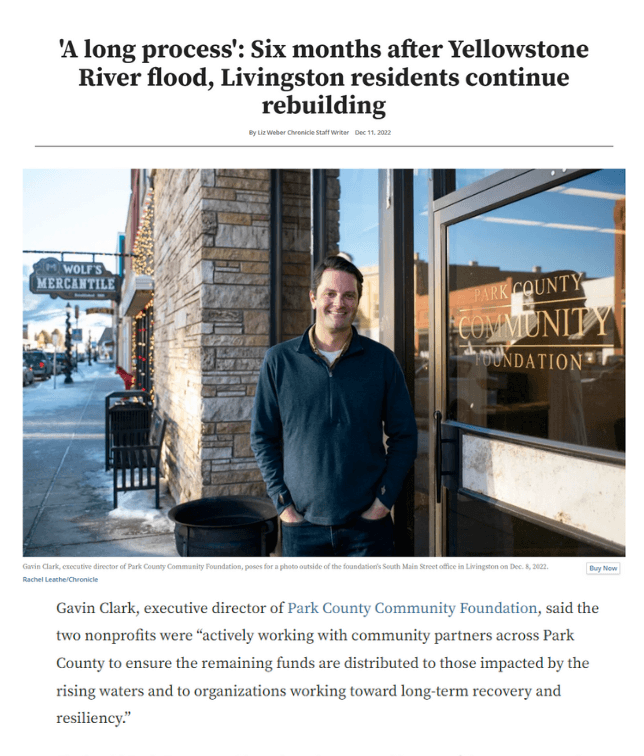 LIVINGSTON — With snow on the ground and wind blowing outside, Celeste Mascari walks through her 1901 home, pointing out the sub-floors, bottoms of walls removed, missing insulation, and temporary plumbing — all signs of where flood waters reached her home in June.
Mascari, whose business Chickadee Montessori School is also on her property, had damage to both buildings during the historic flooding that made the Yellowstone River break its banks and forced a temporary closure of Yellowstone National Park.
On the day of the flood, Mascari had around 13 students in school and sent them home as a precaution. As she sandbagged throughout the day, she watched the waters seemingly rising from the ground and entreating on her property from the stream near the back of her property.
By that evening, waters were so high, she was left with no other choice but to gather up her animals and leave.
"It looked like a lake back here," she said.
Six months later and with winter setting in, Mascari and others are still faced with the impacts of the historic flood, ranging from continued clean-up, rebuilding damaged property, economic fallout and the emotional and mental effects of living through a natural disaster.
"It's been a long process and still continues to be a long process," Mascari said. "It's like from the outside, it seems that everything's kind of tidied back up again. But I think it's just a long process and it involves so many different pieces of our lives that we have to reassess and pull back together."
Mascari, who spent that night at her brother's house outside of town, was able to return the next day to find water, debris and a thick layer of river mud coating her home and school. She estimates the school received about 2 feet of water and her house between 6 inches and 2 feet.
"With water damage, you have to start from scratch. You have to tear everything out, walls, insulation, floor," she said.
In the weeks that followed, Mascari and others in town began the long task of sifting through their belongings, cleaning what they could, removing debris from their homes and drying out what was left.
"It's livable. With winter here, we're working on rebuilding the school first and once that's finished, I plan on moving in there so we can finish rebuilding the house," she said, adding she can feel the lack of floors and insulation since the cold weather arrived.
Within the first week, fundraising efforts popped up to help those impacted, ranging from GoFundMe pages, bake sales and lemonade stands and funds established by nonprofits.
Drastic need
Organized by Park County Community Foundation and Greater Gallatin United Way, the nonprofits have raised close to $3 million to date in the Southwest Montana Flood Relief Fund. Within its first phase of allocation, it handed out around $1.4 million, primarily for home and property damage.
In its phase two, launched in October, it's allocated $841,000 to its three new priority areas including nonprofit relief and resiliency grants, severe flood damage, and economic relief to North Yellowstone towns, including Gardiner, Cooke City, Silver Gate and Mammoth Hot Springs.
Between the two phases, the fund has given out around $2.2 million.
Gavin Clark, executive director of Park County Community Foundation, said the two nonprofits were "actively working with community partners across Park County to ensure the remaining funds are distributed to those impacted by the rising waters and to organizations working toward long-term recovery and resiliency."
Clark said Park County residents have been tested by one of the worst natural disasters to hit the area on top of a few hard years.
"It was a one-two-three punch with COVID, and the housing and economic downturn and of course the flood," Clark said. "There's a big mental health toll that's happening here over the last three years… It's been a rough couple of years for folks and the icing on the cake is tipping them over the edge in some cases."
Clark does see a silver lining in the crisis.
"Once again proving the power of a community coming together to solve problems and help each other out. As a result, I believe we are better positioned and prepared as a community moving forward," he said.
There were over 1,700 donors from all 50 states and various countries that donated. The fund also saw an influx in money in August, when musician John Mayer hosted a serious of concerts at the Pine Creek Lodge. Clark estimates more than $1.2 million was raised through the concerts and their accompanying online streaming events.
"It's an ongoing struggle of allocating a limited amount of resources we have here with a pretty drastic amount of need," Clark said.
The total requests from its applicants is around $12 million, Clark estimated.
"This fund is not anywhere big enough to make people whole," Clark said. "We've raised around $3 million but the need is so large."
During the fund's first phase, Mascari said she received a couple rounds of money from the fund. It was especially helpful for the school rebuild, which was not eligible for FEMA funds.
Mascari opted to close the school this school year and reopen it next fall. While her families have been understanding, it has still impacted them.
"It's been really hard on families though having lost child care in such a short period of time and having so many changes happen for them. It's already a challenge in Park County finding a place for your children to go," she said.
With Mascari's home and work taking on damages, there have been a lot of highs and lows.
"I feel like a lot of times it's just a day-by-day process. I do feel that I'm on the upper end of rebuilding now, like it feels like things are moving a little bit better but it's hard at times to take care of myself," she said.
During the early days, it was often hard to know what to do next, how to navigate FEMA's process, what to ask contractors, and how to clean up.
"A lot of my energy at the beginning was just trying to piece everything together and trying to figure out who to talk to and what questions to ask," she said.
Winter months
The passing of time has presented a challenge for fundraising, said Megan Castle, director of communications and marketing at Greater Gallatin United Way.
"So many of these homes look totally fine from the outside," Castle said. "Some of these places I would never have guessed had flood damage but the entire inside of the house is gutted. If you weren't looking for it, you would never know."
It hasn't been difficult to get people to care about the area, she said, but it's potentially difficult for people to understand the full scope of the situation and the need.
"There's a messaging challenge. People who are living in Livingston are very understanding but people from outside, it's kind of out of sight out of mind," she said.
With contractors so busy in Park County, Castle said, it's likely not everyone will be able to schedule the repairs and remodels they need ahead of winter even if they have the money to do so. The phase two grants to nonprofits will help ensure there's money available for people to get utility, firewood, and food support.
"Winter months are definitely a concern for us," she said.
Heather Muldoon, owner of Heather's Garden Service and Flower Farm, said she is taking the winter to take stock, work some holiday events and side gigs and make plans for next year.
Muldoon's business on Ninth Street Island, includes a greenhouse, flower farms, seasonal retail operation, landscaping and custom flower baskets. In the flood, she lost flowers, plants, merchandise, equipment, a greenhouse and time put into property improvements.
"My whole goal was to create something beautiful down there," she said. "When the flood happened, four years of working on that property were basically washed away."
With two years left on her lease, Muldoon said she isn't certain what to do with the space.
"I don't know if it's going to flood again. So, whatever I do has to be easily moved or we have to be able to easily prep for that event and deal with it and then get past it. That's been incredibly challenging to determine what should I be doing but also to let go of the things that I've been building for four years."
Muldoon highlighted how there's limited financial support for businesses impacted, with FEMA only applying to homeowners.
"The relief funds that did come through (Park County Community Foundation) were for me absolutely imperative. I don't know what I would've done without those funds because I did lose a lot. I don't even have the full scope of it because so many things floated away," Muldoon said.
Even with financial support, it's hard to fully recover the time, energy and money people pour into their business and homes, Muldoon said.
It's also the nature of disasters for the needs to fade in the awareness of people not directly impacted. Muldoon said there's often not a lot of visibility for some of the impacts of flooding so it can be hard for people to have the full picture of recovery.
"I don't in any way want to sound like I'm shaming anybody for not paying attention because I had the most incredible amount of help from this community. It was so heartening, and it really makes you believe in humanity," she said.
As they look toward the future, both Muldoon and Mascari spoke of the uncertainty they feel on how to rebuild.
"It's pretty terrifying to go through cleaning everything up and then wondering whether it's going to get destroyed again by Mother Nature," Muldoon said.
Mascari said she was hopeful the flood would be an opening for conversations around how to live when their natural world is changing.
"How are these events going to affect the way that we look at how we approach living next to rivers and living as humans with a changing climate," she said.
Back on Mascari's land, winter is here. The renovations on the school are scheduled to be complete in January and repairs will shift to her home.
Then spring will come, bringing with it the promise of renewal and the potential for flood waters.
"A lot of the processing was all of these big questions coming up about whether or not to rebuild and where would I go if I sold the place. Everything kind of swirled at the beginning," she said. "I feel a little bit like I'm going to be holding my breath for the next couple of years just to see what happens in the spring."