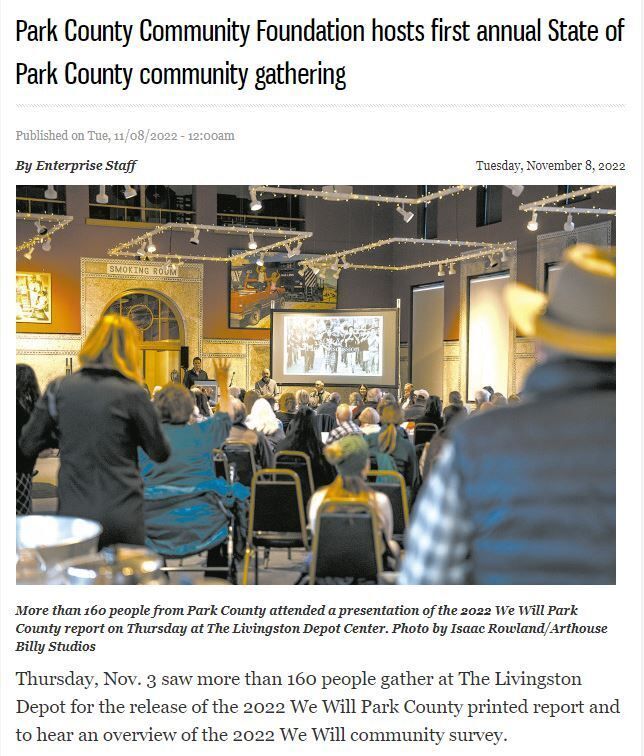 Thursday, Nov. 3 saw more than 160 people gather at The Livingston Depot for the release of the 2022 We Will Park County printed report and to hear an overview of the 2022 We Will community survey.
A presentation, hosted by the Park County Community Foundation, addressed the confluence between the opinions of Park County residents and the hard data capturing what is actually happening in our community, toward the goal of identifying areas of shared interest and values, a PCCF news release said.
Following the presentation, PCCF Board Chairman Jeff Welch led a discussion with three panelists — Bill Milton, a Musselshell County rancher and lead facilitator with the Musselshell Watershed Coalition; Mike Halligan, executive director of the Dennis & Phyllis Washington Foundation; and Elizabeth Brown, managing director of the Mental Health & Well-Being Program Area of the Arthur M. Blank Family Foundation and former executive director of the Sonoma Valley Community Foundation during the destructive wildfires of 2017. Their discussion explored successes and failures aimed at increasing local resiliency and self-determination.
This gathering represents the next step forward in PCCF's We Will Park County initiative, the release said. Initially launched in 2018 with input from residents from Wilsall to Cooke City, We Will Park County was created to be a tool to help county residents realize the future they want by annually presenting facts and opinions on the most important issues facing Park County.
These issues were revisited during the 2022 We Will Park County Community Survey that took place in August and September, and the resulting data clarified that there is significant agreement among survey respondents, according to the release. Top among these was the shared impression that Park County is changing, faster than most would like. People are concerned that the things they value about living here may be lost: 69% agree that there is a lack of planning for growth, 82% agree that more people are struggling financially, and 96% agree that it's important to preserve natural resources such as water and air for future generations.
"For all its wonders and desirability, Park County also has its fair share of challenges, as this report illustrates," Gavin Clark, executive director of the PCCF. said in the release. "Our intention with this event, and the 2022 We Will Park County report, is to light a spark that will inspire Park County residents to get involved and reach out a neighbor you might have never met. As we have shown tonight, you most likely have a lot in common."
An electronic version of the 2022 We Will Park County report can be found on the PCCF website at https://find. pccf-montana.org/2022_We-Will-Park-County_Report. An audio recording of the event will also be posted on this page in the coming weeks. Anyone with feedback or comments on the report is encouraged to reach out to Gavin Clark by calling the PCCF office at 406-224-3920.