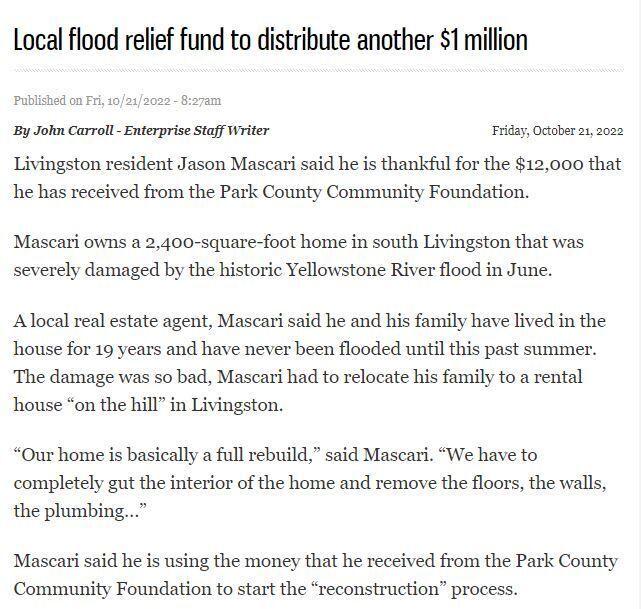 Livingston resident Jason Mascari said he is thankful for the $12,000 that he has received from the Park County Community Foundation.
Mascari owns a 2,400-square-foot home in south Livingston that was severely damaged by the historic Yellowstone River flood in June.
A local real estate agent, Mascari said he and his family have lived in the house for 19 years and have never been flooded until this past summer. The damage was so bad, Mascari had to relocate his family to a rental house "on the hill" in Livingston.
"Our home is basically a full rebuild," said Mascari. "We have to completely gut the interior of the home and remove the floors, the walls, the plumbing…"
Mascari said he is using the money that he received from the Park County Community Foundation to start the "reconstruction" process.
"The foundation has been super helpful," said Mascari. "It's a great organization that has helped me and hundreds of other people that needed it. I'm super pleased with them."
In response to the devastating flood, the Park County Community Foundation partnered with the Greater Gallatin United Way to create the Southwest Montana Flood Relief Fund with the purpose of raising money and distributing the emergency funds to people, businesses and nonprofits adversely affected by the natural disaster.
Gavin Clark, executive director of the Park County Community Foundation, said the relief fund to date has generated more than $2.7 million, and has already distributed $1.5 million to more than 300 individuals, businesses and nonprofits across Park County.
"Thanks to the generosity from people from all over the world, we have been able to provide relief and immediate cash to help some folks get though some pretty hard times," said Clark.
The majority of the relief money has been directed to property damage, such as flooded homes and businesses, said Clark, while other funds have helped people dealing with crisis situations, such as evacuation costs.
"Some people lost their jobs and urgent funding is needed to help them pay their bills, buy food or pay rent," said Clark.
Next up, said Clark, the relief fund is preparing to distribute another round of funding of more than $1 million. The priority is to focus on economic relief to the north Yellowstone communities surrounding Gardiner, Cooke City, Silver Gate, and Mammoth, Wyoming.
The other priorities, said Clark, are to aid nonprofits that serve people impacted by the flood and to assist current applicants who have suffered severe flood damage.
"Some communities are still in crisis due to the closing of the park and the decline in tourism dollars," said Clark. "We want to help those communities survive the winter."