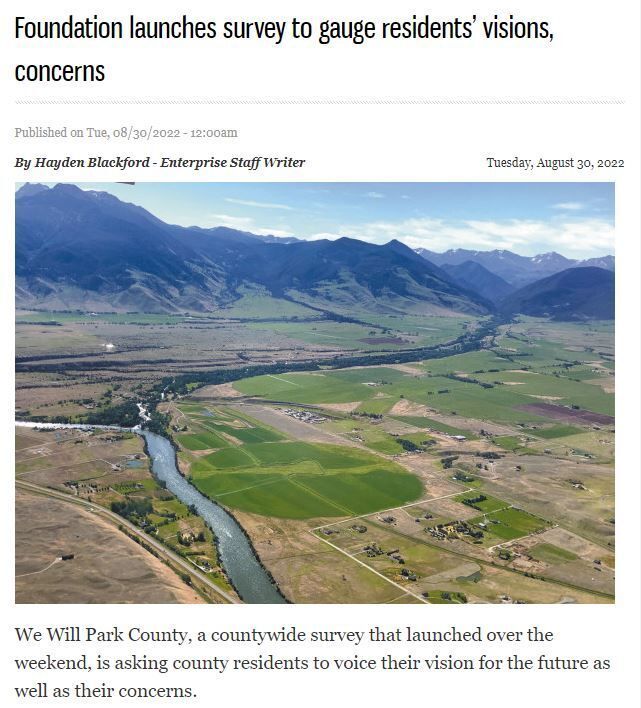 We Will Park County, a countywide survey that launched over the weekend, is asking county residents to voice their vision for the future as well as their concerns.
The survey is overseen by the Park County Community Foundation, and it aims to find out what matters most to residents of Park County.
The project started in 2018. Alongside the survey, the foundation hosted focus groups, listening sessions and discussions with other nonprofits.
Much has happened since 2018, according to Barb Oldershaw, program director for the Park County Community Foundation. Since 2018, the COVID-19 pandemic, flooding in 2022, and current housing market are just a few things that may have changed Park County residents' priorities, Oldershaw said.
The 2018 version of the survey identified five areas of a shared communal vision after hearing from 700 community members: Health, Safety and Education; Economic Performance; Housing and Affordability; Small Town and Rural Lifestyle; Landscapes and Natural Amenities. The reason that the foundation would like to know more about what matters to Park County is so that they can make more informed grant decisions.
People who participate in this year's survey, which takes five to seven minutes to complete, will have the option to be entered into a random drawing that happens late September for one of five 100$ VISA gift cards.
Findings from the survey will come out later this year, and community responses need to be entered by the closing date of Sept. 16.
To fill out the survey online, visit https://find.pccf-montana.org/2022-Community-Survey. For those who can't do the online version, there are paper surveys available at the Park County Community Foundation in Livingston.