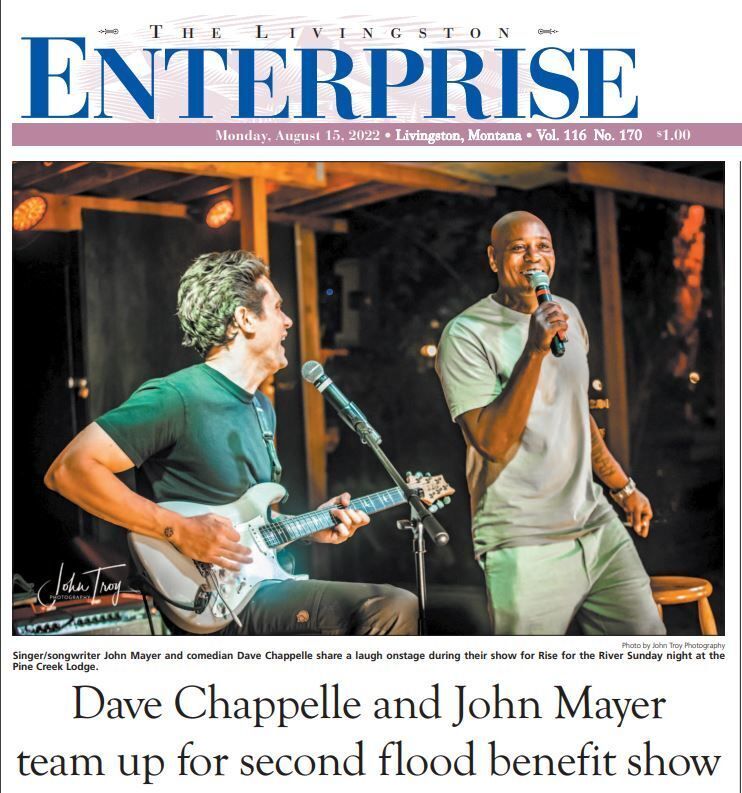 Livingston area resident and rock star John Mayer set a goal of raising $1 million for flood relief victims in Park County from his three benefit relief concerts this month at Pine Creek Lodge.
"I'm pretty comfortable we can raise $1 million, and that is John's goal, and we are working hard to make that happen," said Gavin Clark, executive director of the Park County Community Foundation, a local nonprofit that will distribute the benefit funds to residents and businesses affected by the Yellowstone River flood on June 13.
"We are making sure the money gets allocated out to folks in Park County who have been affected by the flood," said Clark. "People's lives were changed forever, and we are trying to be as strategic and thoughtful as we can."
Ticket sales for Mayer's three concerts, a benefit called "Rise for the River," will generate about $500,000.
Another $500,000 is expected to be generated from merchandise sales, auction proceeds and ticket sales from the show's livestream events, according to Clark.
On top of the $1 million expected to come in from Mayer's fundraisers, the foundation had already raised $1.5 million from individuals and businesses in the community.
"People have been very generous in supporting their neighbors," said Clark. "We've had a front row seat to an incredible show of generosity."
About 400 applicants have applied for flood assistance with the Park County Community Foundation over the last two months and "we've allocated out $1 million so far for the cleanup and repair of personal homes," said Clark.
The foundation is still taking applicants affected by the flood in Park County. Homeowners and businesses can apply for flood relief money through the foundation's website at www.pccf-montana. org.
"The relief effort is a marathon and not a sprint," said Clark. "With the next million that comes in, we hope to support folks in Gardiner, Cooke City and Silvergate. They are suffering pretty bad."
The last and final John Mayer benefit concert is set for Sunday, Aug. 21 at Pine Creek Lodge. The show is sold out, but can be viewed online as part of a livestream benefit package. Follow John Mayer's Facebook page for more information on the livestream.