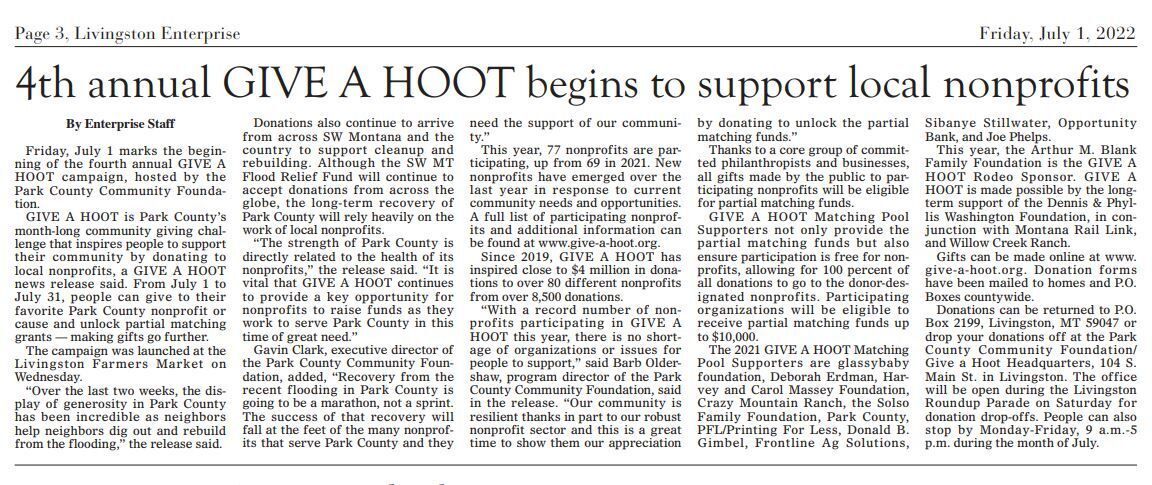 Friday, July 1 marks the beginning of the fourth annual GIVE A HOOT campaign, hosted by the Park County Community Foundation.
GIVE A HOOT is Park County's month-long community giving challenge that inspires people to support their community by donating to local nonprofits, a GIVE A HOOT news release said. From July 1 to July 31, people can give to their favorite Park County nonprofit or cause and unlock partial matching grants — making gifts go further.
The campaign was launched at the Livingston Farmers Market on Wednesday.
"Over the last two weeks, the display of generosity in Park County has been incredible as neighbors help neighbors dig out and rebuild from the flooding," the release said.
Donations also continue to arrive from across SW Montana and the country to support cleanup and rebuilding. Although the SW MT Flood Relief Fund will continue to accept donations from across the globe, the long-term recovery of Park County will rely heavily on the work of local nonprofits.
"The strength of Park County is directly related to the health of its nonprofits," the release said. "It is vital that GIVE A HOOT continues to provide a key opportunity for nonprofits to raise funds as they work to serve Park County in this time of great need."
Gavin Clark, executive director of the Park County Community Foundation, added, "Recovery from the recent flooding in Park County is going to be a marathon, not a sprint. The success of that recovery will fall at the feet of the many nonprofits that serve Park County and they need the support of our community."
This year, 77 nonprofits are participating, up from 69 in 2021. New nonprofits have emerged over the last year in response to current community needs and opportunities. A full list of participating nonprofits and additional information can be found at www.give-a-hoot.org.
Since 2019, GIVE A HOOT has inspired close to $4 million in donations to over 80 different nonprofits from over 8,500 donations.
"With a record number of nonprofits participating in GIVE A HOOT this year, there is no shortage of organizations or issues for people to support," said Barb Oldershaw, program director of the Park County Community Foundation, said in the release. "Our community is resilient thanks in part to our robust nonprofit sector and this is a great time to show them our appreciation by donating to unlock the partial matching funds."
Thanks to a core group of committed philanthropists and businesses, all gifts made by the public to participating nonprofits will be eligible for partial matching funds.
GIVE A HOOT Matching Pool Supporters not only provide the partial matching funds but also ensure participation is free for nonprofits, allowing for 100 percent of all donations to go to the donor-designated nonprofits. Participating organizations will be eligible to receive partial matching funds up to $10,000.
The 2021 GIVE A HOOT Matching Pool Supporters are glassybaby foundation, Deborah Erdman, Harvey and Carol Massey Foundation, Crazy Mountain Ranch, the Solso Family Foundation, Park County, PFL/Printing For Less, Donald B. Gimbel, Frontline Ag Solutions, Sibanye Stillwater, Opportunity Bank, and Joe Phelps.
This year, the Arthur M. Blank Family Foundation is the GIVE A HOOT Rodeo Sponsor. GIVE A HOOT is made possible by the longterm support of the Dennis & Phyllis Washington Foundation, in conjunction with Montana Rail Link, and Willow Creek Ranch.
Gifts can be made online at www.give-a-hoot.org. Donation forms have been mailed to homes and P.O. Boxes countywide.
Donations can be returned to P.O. Box 2199, Livingston, MT 59047 or drop your donations off at the Park County Community Foundation/Give a Hoot Headquarters, 104 S. Main St. in Livingston. The office will be open during the Livingston Roundup Parade on Saturday for donation drop-offs. People can also stop by Monday-Friday, 9 a.m.-5 p.m. during the month of July.