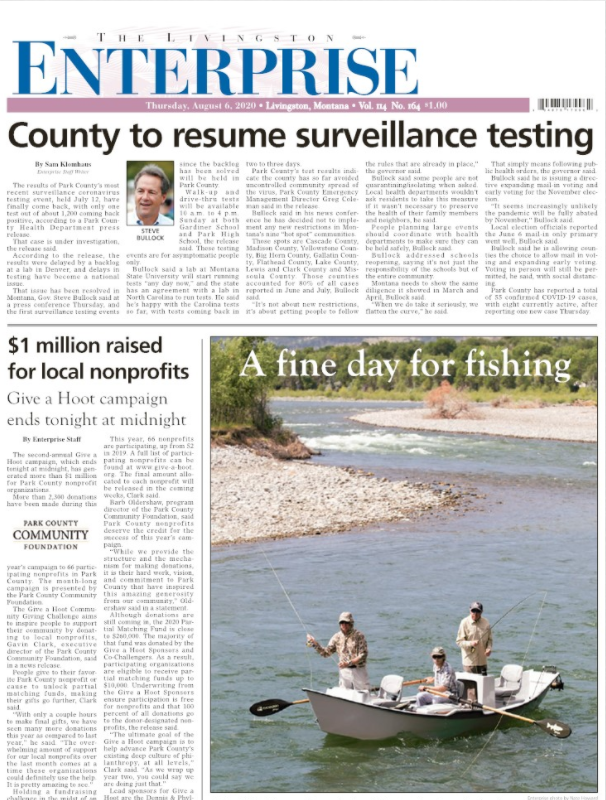 The second-annual Give a Hoot campaign, which ends tonight at midnight, has generated more than $1 million for Park County nonprofit organizations.
More than 2,300 donations have been made during this year's campaign to 66 participating nonprofits in Park County. The month-long campaign is presented by the Park County Community Foundation.
The Give a Hoot Community Giving Challenge aims to inspire people to support their community by donating to local nonprofits, Gavin Clark, executive director of the Park County Community Foundation, said in a news release.
People give to their favorite Park County nonprofit or cause to unlock partial matching funds, making their gifts go further, Clark said. 
"With only a couple hours to make final gifts, we have seen many more donations this year as compared to last year," he said. "The overwhelming amount of support for our local nonprofits over the last month comes at a time these organizations could definitely use the help. It is pretty amazing to see." 
Holding a fundraising challenge in the midst of an unprecedented health and economic crisis presented many challenges and uncertainties. In-person gatherings were canceled, and outreach efforts transitioned to online and U.S. mail. Despite these last-minute adjustments, organizers report that total giving could surpass the $1.07 million raised during the 2019 Give a Hoot campaign, the release said. 
"We will be very, very close to beating last year's totals, and there is still time to give," Clark said in a statement. "Gifts made in the final hours will tip it over the edge." 
This year, 66 nonprofits are participating, up from 52 in 2019. A full list of participating nonprofits can be found at www.give-a-hoot.org. The final amount allocated to each nonprofit will be released in the coming weeks, Clark said.
Barb Oldershaw, program director of the Park County Community Foundation, said Park County nonprofits deserve the credit for the success of this year's campaign.
"While we provide the structure and the mechanism for making donations, it is their hard work, vision, and commitment to Park County that have inspired this amazing generosity from our community," Oldershaw said in a statement. 
Although donations are still coming in, the 2020 Partial Matching Fund is close to $260,000. The majority of that fund was donated by the Give a Hoot Sponsors and Co-Challengers. As a result, participating organizations are eligible to receive partial matching funds up to $10,000. Underwriting from the Give a Hoot Sponsors ensure participation is free for nonprofits and that 100 percent of all donations go to the donor-designated nonprofits, the release said.  
"The ultimate goal of the Give a Hoot campaign is to help advance Park County's existing deep culture of philanthropy, at all levels," Clark said. "As we wrap up year two, you could say we are doing just that." 
Lead sponsors for Give a Hoot are the Dennis & Phyllis Washington Foundation, in conjunction with Montana Rail Link, and Willow Creek Ranch. The 2020 Give A Hoot Co-Challengers are Deborah Erdman, Diana and Bruce Rauner, Harvey and Carol Massey Foundation, Philip Morris USA/Crazy Mountain Ranch, The Solso Family Foundation, and AMB West Philanthropies.  
Final gifts can be made online at www.give-a-hoot.org. All checks need to be dated by Aug. 6 and either mailed or dropped off at the Community Foundation office at 212 E. Callender St. 
By Enterprise Staff