Boosting Families - Diaper Depot Program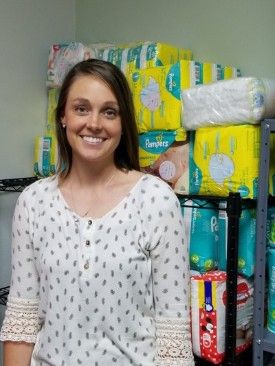 Janelle Bowden probably has Livingston's biggest stash of Pampers.
The Park County Health Department nurse has 660 packs of diapers stuffed into her office, which has become, thanks in part to funding from the Community Foundation, The Diaper Depot.
Bowden started The Diaper Depot in 2017 after hearing repeatedly from low-income families that they struggled to afford diapers. As the Park County Director of the Montana Supplemental Nutrition Program (SNAP) for Women, Infants and Children (WIC), she said people always asked her if she had an extra pack of diapers lying around. With diapers costing about $3 a piece and restrictions on using WIC money to purchase them, some families resorted to changing their children less often to stretch their diapers.
"We were hearing that kids were in diapers for too long because they were trying to make them last," she said. "But it's not just about handing families diapers. When they come into the health department, we connect them to other resources."
Bowden buys diapers through Livingston HealthCare at a discounted rate of about three cents a diaper. Families receive about two weeks worth of diapers every time they visit.
So far each family has expressed gratitude for the service.
"They are so grateful," she said. "The diapers are great, but the connections and resources are even better."
---