Bringing Community Resources Together.
It's 12:45. on a Tuesday afternoon in the middle of Gardiner's busy summer tourist season and Linda Gray is stocking shelves. She rushes to put away apples, granola bars and lettuce.
As soon as Gray opens the doors to Gardiner Food Pantry 15 minutes later, half a dozen patrons show up. Gray sits at her desk, reviews intake forms, tallies numbers and makes small talk as they shop. Within the next half hour, a dozen more people show up. Gray seems to know everyone – she asks about jobs and health problems and car trouble. Although The Food Pantry's clients receive groceries for free, everyone Gray talks to on this Tuesday has at least one full-time job, at least for the summer. Some show up wearing nametags and shirts from the places where they work. But this is Gardiner, Gray explains, a community where people can have a full-time job in the summer and, because the cost of living is so high, cannot afford to feed themselves.
One man who said he has a full-time job, said groceries are expensive in Gardiner and he and his girlfriend cannot often make it to Livingston to find them for cheaper. Most of the money he makes working at a hotel is spent on his rent, thus making his weekly trip to the Food Pantry a necessity.
"I get 50 percent less stuff when I buy food in Gardiner than when I buy it any where else," he said.  The Food Pantry feeds 25 to 35 people a week, according to Gray.
"There is definitely a need," Gray said. "Once you open the door, it flies wide open and you see all these other needs. We cater to the working poor. Some of these people work two to three jobs in the summer, but this is a tourist-drive location and jobs don't pay very much."
The Park County Community Foundation made its first-ever multi-year grant to the Gardiner Food Pantry for $10,000 a year over the next three years to plan for for a 9,000-square-foot new building and to expand operations. In addition to providing more space for the Food Pantry, the new building will house an expanded space for Livingston HealthCare, temporary housing for those in need and the G-Town Thrift Store, which is currently closed.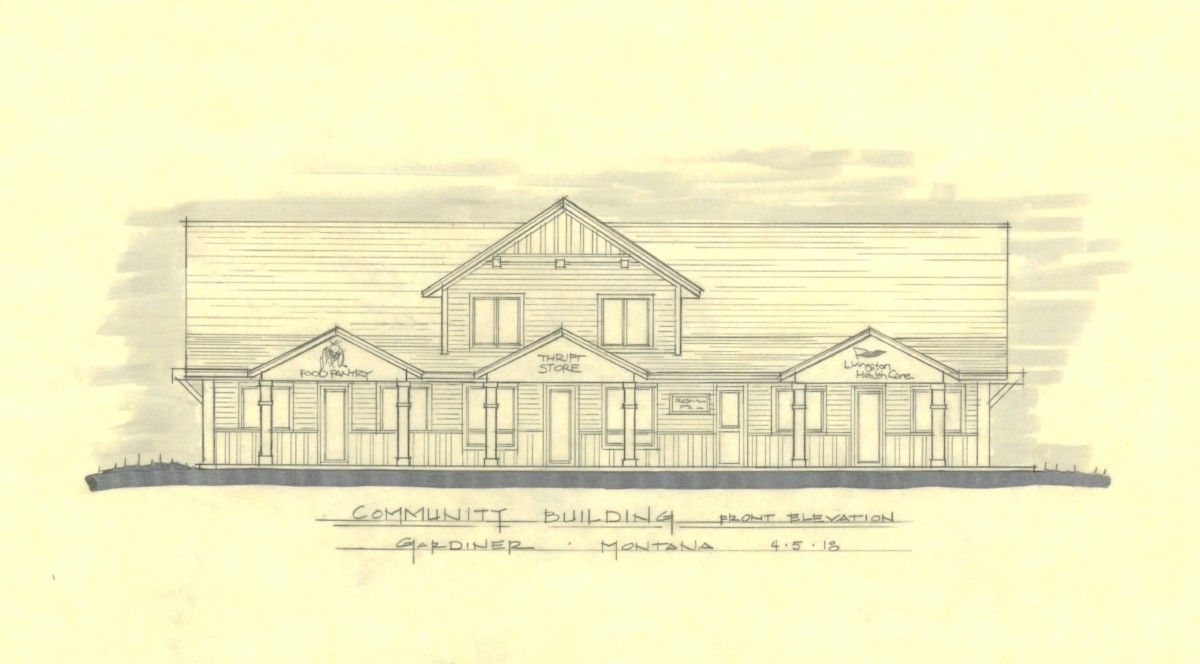 Livingston HealthCare currently operates out of the basement of the Baptist Church and needs more space to expand services. G-Town Thrift provided vital services to the town's seasonal and international employees, many of whom show up unprepared for the weather conditions in Montana, Gray said. The thrift store had to close because it lost its space.
HDRC is working with the Food Pantry to develop and manage the new temporary housing facility, which will hold 24 beds --  12 for men and 12 for women. Temporary housing is a desperate need in Gardiner. Stories abound of people losing long-term rentals they could afford when units sell and are converted into vacation rentals.
Locating all of the organizations in the same building will help providers connect people to more services.
"It's a chance to talk, to ask, 'How are you today?' to supply our clients with clothing, to connect people to other services," Gray said.
Like many people and organizations in Gardiner, the Food Pantry hasn't always had the easiest time finding a place to live. The Pantry has moved locations three times since it started in 2005. Gray and a few other volunteers started the pantry in the downstairs of the Eagles Bar using food from the Xanterra Christmas food drive. The Food Pantry's programs are currently split into two buildings: the storefront on Main and Third Street and a storage space from which they run a backpack program that provides children with supplemental meals. The new Food Pantry will be located on the Baptist Church property with a no-expiration lease. This arrangement will assure the Food Pantry's space will never become a vacation rental.
"It will be so nice just to have everything in one place and not have to worry," Gray said.
A final budget for the project is still in the works, Gray said, but the Food Pantry hopes to have all the funding in place before construction begins. Community Foundation money gave the project "a great start," she said.
---