Share Your Story to Create Compelling Grant Proposals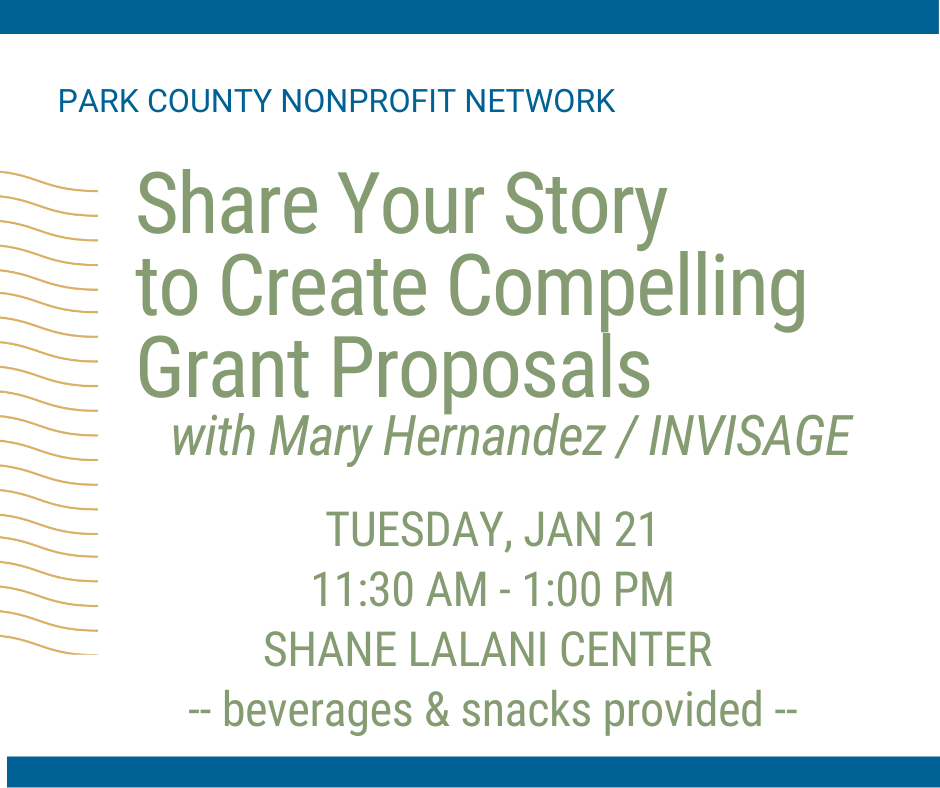 PCCF is making two changes to our 2020 community grants program:
-we are seeking to fund programs that align with the key content areas identified by our We Will community visioning project (WeWillParkCounty.org)
- we are eliminating the $5,000 funding cap, towards the goal of funding more impactful programs
You have your organization's story. And now It's time to prepare your grant application. How are you going to present your project in a way that clearly illuminates: your anticipated impact in Park County? the important work you'll be able to accomplish with a larger grant check? and your alignment with the We Will vision?
Come and learn or review your plan for submitting a strong grant request. Presenter Mary Hernandez will synthesize what previous Nonprofit Network trainers have shared and provide you some time to review what information you already have in place. Leave this workshop with a clear sense of which current program details are most compelling and identify what more may need to be considered to strengthen your 2020 grant requests. Note that information presented will be relevant to your overall grant seeking strategy, whether or not you are applying for PCCF grants funding.
ABOUT OUR PRESENTER:
Mary Hernandez is owner of Invisage Consulting and works with nonprofit organizations, government agencies, and private businesses to provide meeting facilitation, strategic planning, and organizational development. She has volunteered and worked in the nonprofit sector for 30 years with organizations small and large including the Boys & Girls Clubs of Richland County (MT) and Campbell County (WY), Yellowstone Art Museum, Yellowstone Boys & Girls Ranch (Empowering Youth Project), American Diabetes Association, and Leadership Montana. Mary currently serves on the executive committee of the American Civil Liberties Union National board and its Montana affiliate board. She received her BA in Organizational Communication from Eastern Montana College (now Montana State University Billings) and has used and trained Gracious Space since 2008. Mary feeds her never-ending curiosity through travel, books, and keeping up on current events.