Nonprofit Leadership & Stewardship Training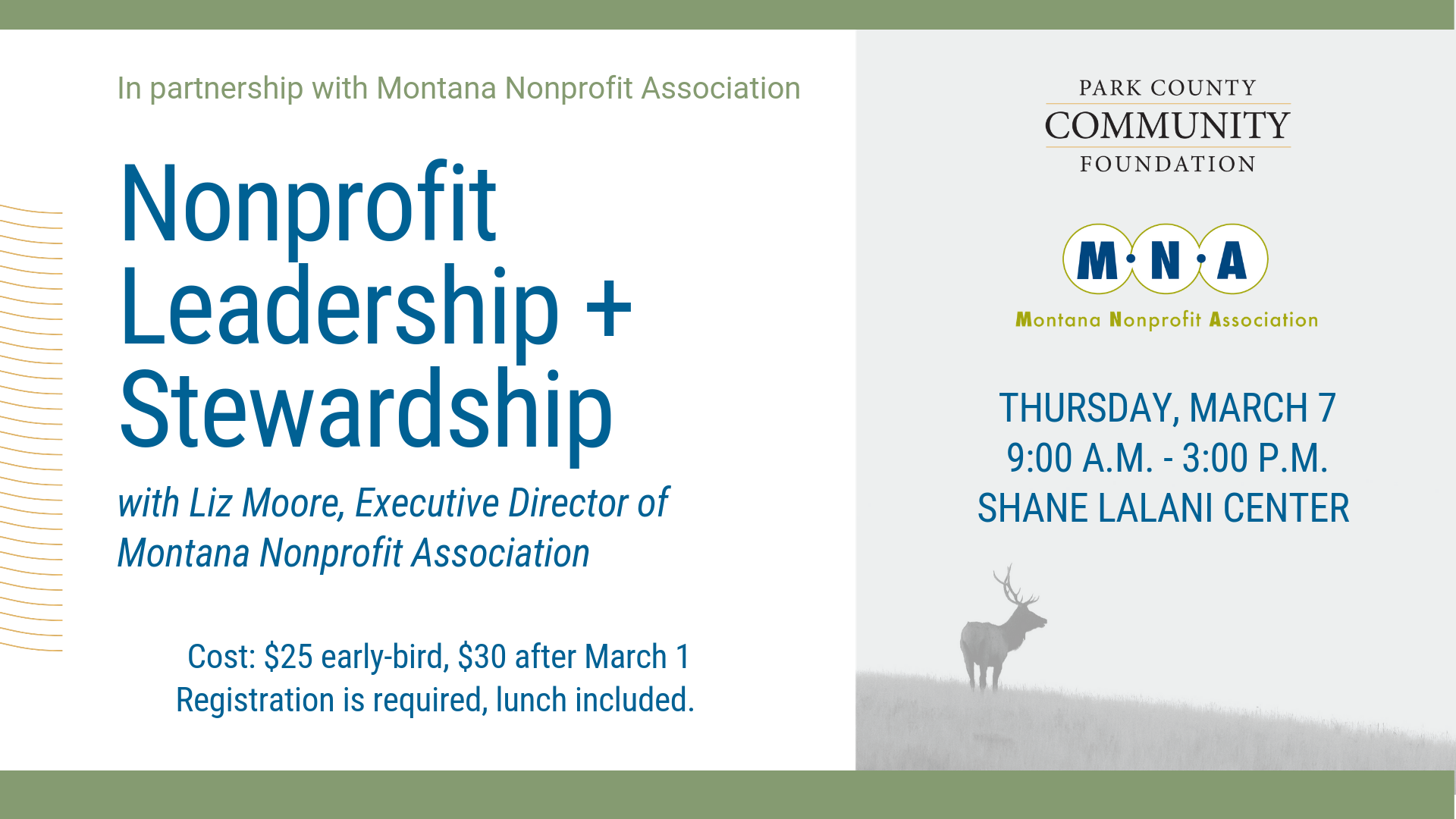 We are partnering with Montana Nonprofit Association to bring their Nonprofit Board Leadership + Stewardship training to Livingston!
Cost: $25 early-bird, $30 after March 1
*The normal cost of this workshop is $89, however we want to make it accessible to everyone who wants to attend so we are sponsoring the event!
REGISTRATION IS REQUIRED: https://bit.ly/2RzJLx7
For nonprofit leaders and board members!
Legal responsibilities, strategic vision, financial stewardship… Board Members have a lot on their plates. Whether you are a seasoned board member or a new recruit, this workshop will cover all you need to know to become an excellent board member.
About the Presenter
Liz Moore joined the Montana Nonprofit Association as Executive Director in 2011. She previously worked for the Rocky Mountain Development Council, a community action agency serving south-central Montana, for 16 years. In that role, Liz worked with the Head Start program, Low Income Energy Assistance Program, Montana Youth Homes, Homelessness Prevention and Rehousing, and a variety of other human services programs. In her 25 years working and volunteering in the nonprofit sector, Liz was a founding board member for Family Promise of Greater Helena, served on the board of ExplorationWorks!, a museum of science and culture, and co-founded HATCH, the Helena Action Coalition on Homelessness. She served on the Region III Disability Services QIC Editorial Board, the Montana Continuum of Care Coalition, the Montana NAMIWalk Steering Committee, The Montana Behavioral Initiative (MBI) Council, Montana Children's Bill of Rights Task Force, and the Montana Office of Public Instruction Comprehensive System for Professional Development Council.
REGISTRATION IS REQUIRED: https://bit.ly/2RzJLx7
Please call our office at 406-224-3920 with any questions!