More Than Bruises: Shane Lalani Center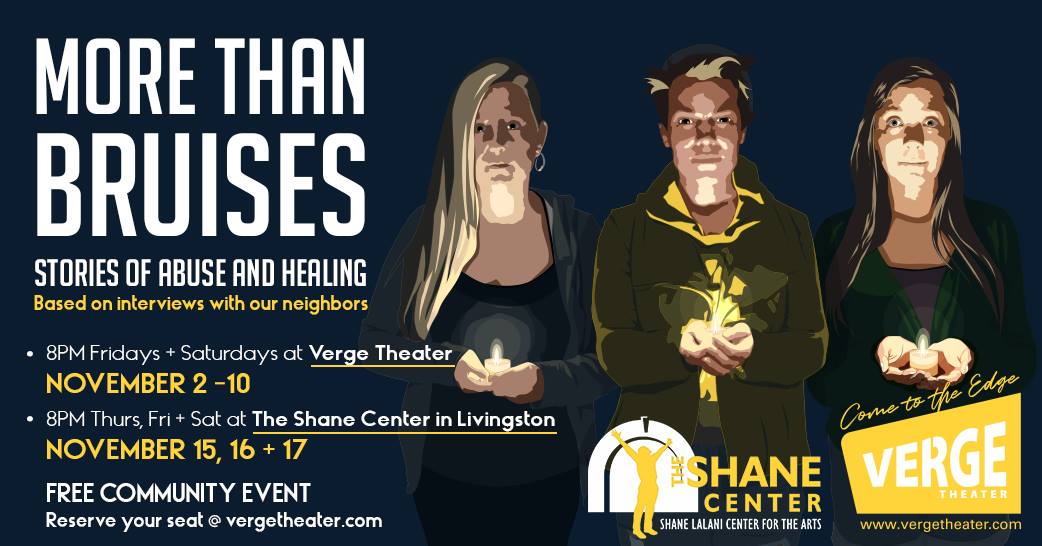 More Than Bruises shares the stories of women from the Gallatin Valley. This original verbatim play weaves together their stories of abuse and healing into a play that challenges us to truly listen and invites us to come together as a community.
The play was created solely from interviews with survivors and aims to provide a space for survivors of domestic violence to share their stories with each other and with the larger community. By co-sponsoring this powerful show, HAVEN and Verge Theater aim to raise awareness and stimulate dialogue about domestic violence, as well as to foster communities of support, large and small, for victims and survivors.
Please be mindful that this play contains descriptions of physical, sexual, and psychological violence, and may not be suitable for all viewers.
THIS SHOW IS FREE TO THE PUBLIC BUT SEATING IS LIMITED; PLEASE RESERVE YOUR SEATS TODAY.
This project was made possible by funding from the National Endowment for the Arts and the Montana Arts Council.