Park County Nonprofit Network - Conflict Resolution Skills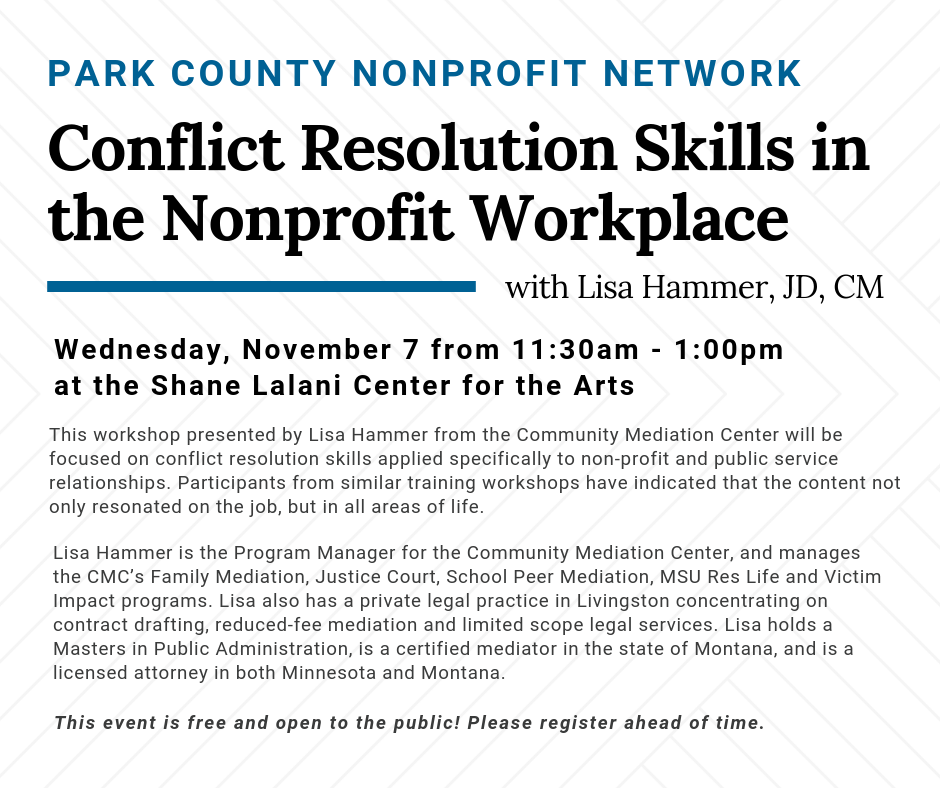 About the Presenter
Lisa Hammer completed her undergraduate studies in Sociology at the College of Saint Benedict in central Minnesota, and her Juris Doctorate at Hamline University School of Law in St. Paul. Lisa relocated to Montana in 2010 and completed a Master's in Public Administration at MSU Bozeman. She has completed additional training in general and family mediation, is a certified mediator in the state of Montana, and is a licensed attorney in both Minnesota and Montana.
After serving as a board member, Lisa recently moved into the position of Program Manager for the Community Mediation Center in Bozeman, and manages the CMC's Family Mediation, Justice Court, School Peer Mediation, MSU Res Life and Victim Impact programs. Lisa also has a private legal practice in Livingston concentrating on contract drafting, reduced-fee mediation and limited scope legal services.
In addition to legal work, Lisa runs a cow-calf ranching operation with her husband near Livingston and is the mom of two rowdy toddlers. She enjoys spending time outdoors with her kids and family (and dogs, chickens, horses and cattle) in the mountains and can to cook a mean hotdish.
This event is free and open to the public! All we ask is that you give us a heads up you are planning to attend by registering.