ASPEN's Lunch & Learn #3: Media and Violence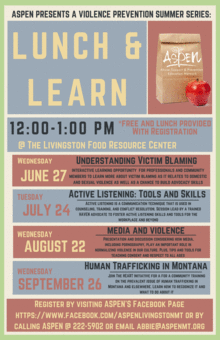 Join us for ASPEN's 3rd Violence Prevention Summer Lunch and Learn on August 22 from 12:00-1:00 pm at The Livingston Food Resource Center.
This presentation and discussion will consider and analyze how media and society play an important role in normalizing violence in our culture, with specific emphasis on relationships. Plus, tips and tools for teaching consent and respect to all ages, as well as how to potentially shift your practice or media critique to take on some of these dangerous, normalized occurrences.
Free Lunch with registration: register by emailing abbie@aspenmt.org or calling 406-222-5902.