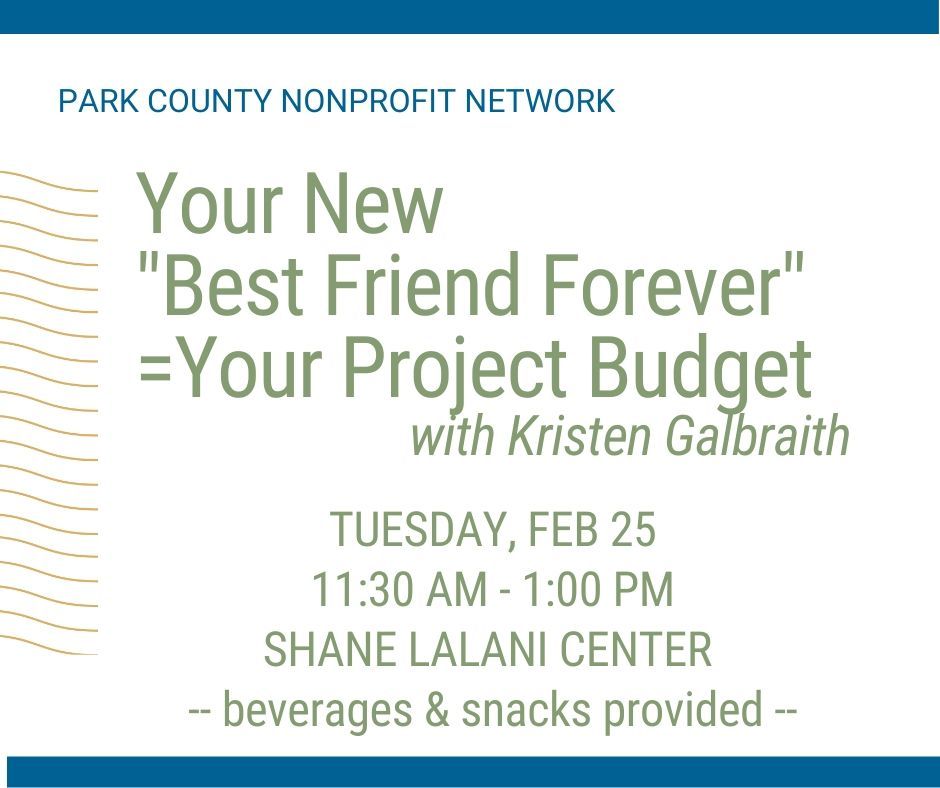 Grant writing and program management are two regular activities for those of us in the nonprofit sector, but let's be honest - how many of us are filled with joy at the prospect of creating or re-visiting our project budgets? Our guess is that many of us start to cringe when asked to engage closely with project budgeting. If that sounds familiar, please join us on February 25th when acclaimed local grant writer Kristen Galbraith will demonstrate step-by-step all the ways in which your project budget can be a valuable companion for project fundraising, tracking benchmarks, and completing those final project reports. So supportive! So consistent! So readily available! Almost as if that project budget was ... your new Best Friend Forever!
ABOUT OUR PRESENTER:
Kristen Galbraith was raised near Glacier National Park in northwest Montana and continued her post-secondary education at Montana State University, obtaining a high honors dual degree in Business Marketing and Accounting. Her diverse career resume includes jobs as a retail salesperson, waitress, wrangler, administrative assistant, project manager, grant writer/administrator and business owner. Since 2009, she has concentrated efforts as a full-time grant writer and special projects administrator, raising more than $24 million for different communities and organizations throughout Montana and Colorado. Kristen is one of three Montanan's who is Grants Professional Certified (GPC) and serves as Board Chair of the Nominating Committee for the Grants Professional Association. She also serves on two local boards as chair of the Livingston Business Improvement District and secretary of Livingston HealthCare. As an avid outdoor enthusiast, she is often trail running, biking or hiking throughout Montana's off-road and mountain areas, most likely accompanied by her two children and canine friends.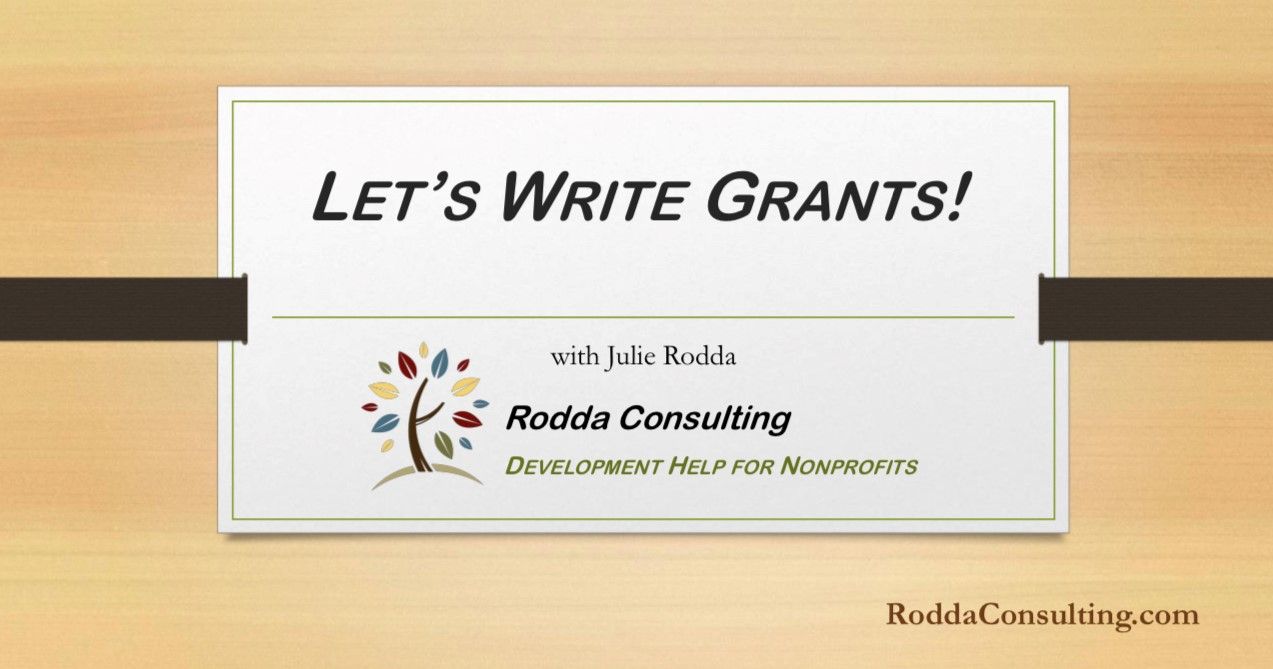 Last January, Julie Rodda conducted a comprehensive training session to cover all aspects of grant-writing. Please join PCCF Program Director, Barb Oldershaw, for an informal, interactive study session where we'll walk through Julie's presentation hand out. A great refresher session for those of you seeking a reminder of key grant-writing concepts! And an excellent introduction if you are new to grant-writing.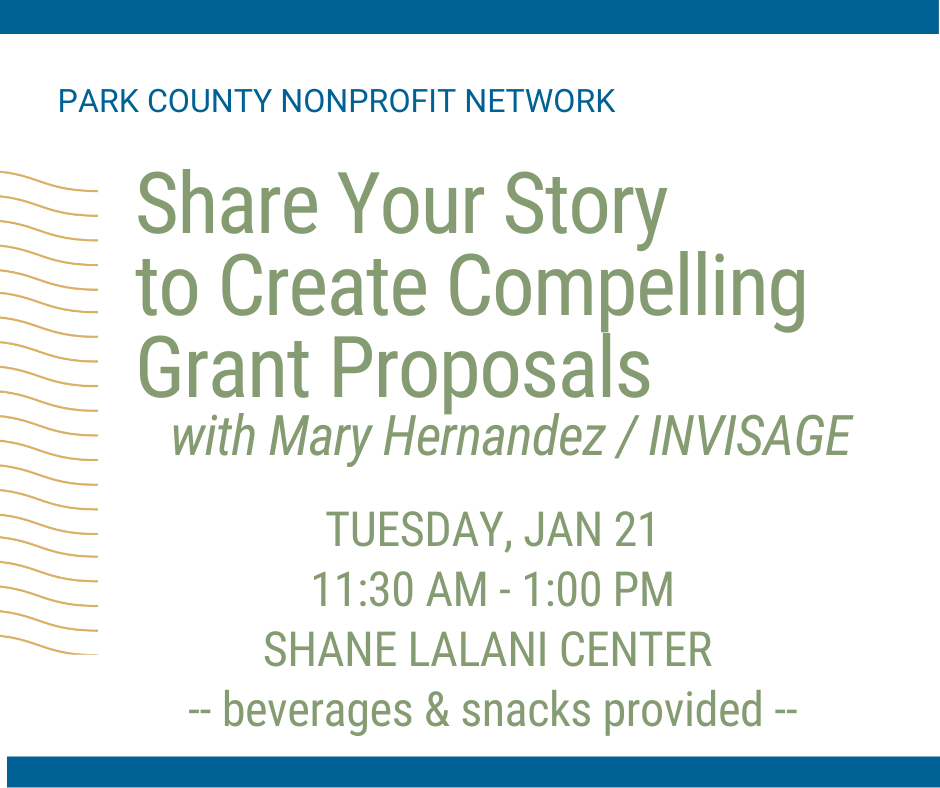 PCCF is making two changes to our 2020 community grants program:
-we are seeking to fund programs that align with the key content areas identified by our We Will community visioning project (WeWillParkCounty.org)
- we are eliminating the $5,000 funding cap, towards the goal of funding more impactful programs
You have your organization's story. And now It's time to prepare your grant application. How are you going to present your project in a way that clearly illuminates: your anticipated impact in Park County? the important work you'll be able to accomplish with a larger grant check? and your alignment with the We Will vision?
Come and learn or review your plan for submitting a strong grant request. Presenter Mary Hernandez will synthesize what previous Nonprofit Network trainers have shared and provide you some time to review what information you already have in place. Leave this workshop with a clear sense of which current program details are most compelling and identify what more may need to be considered to strengthen your 2020 grant requests. Note that information presented will be relevant to your overall grant seeking strategy, whether or not you are applying for PCCF grants funding.
ABOUT OUR PRESENTER:
Mary Hernandez is owner of Invisage Consulting and works with nonprofit organizations, government agencies, and private businesses to provide meeting facilitation, strategic planning, and organizational development. She has volunteered and worked in the nonprofit sector for 30 years with organizations small and large including the Boys & Girls Clubs of Richland County (MT) and Campbell County (WY), Yellowstone Art Museum, Yellowstone Boys & Girls Ranch (Empowering Youth Project), American Diabetes Association, and Leadership Montana. Mary currently serves on the executive committee of the American Civil Liberties Union National board and its Montana affiliate board. She received her BA in Organizational Communication from Eastern Montana College (now Montana State University Billings) and has used and trained Gracious Space since 2008. Mary feeds her never-ending curiosity through travel, books, and keeping up on current events.